Home Remodeling Contractor
Scot Rodman, owner and master carpenter of Rodman Construction Group believes that the key to a successful relationship between our construction company and our customers is giving people something special in their home that they can enjoy and admire, along with treating the customers home as if it were our own. When we take on a home renovation, it's about more than just the finished product. It's about the families we work with, the spaces we transform and the relationships that we build. Our work is your home, and as a result, we hold ourselves to the highest standards as New Jersey's top home remodeling contractor. We won't walk away from any project until we know that you're fully satisfied.
Since 1985, Rodman Construction Group has been providing home renovation and remodeling projects with the best electricians, plumbers, HVAC technicians, painters, tile installers, pool builders and media professionals. Most have been with us since the beginning, and all work with us directly in providing the same mark of excellence as we do. And you can always count on Scot Rodman to be hands-on onsite, ensuring every job exceeds expectations.
The Best of the Best NJ Carpenters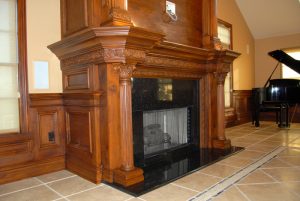 There are thousands of contractors in New Jersey, but after 25 years in the custom carpentry business, there is one thing every Rodman Construction Group's client can agree upon…  No one does high-end woodworking, architectural millwork design, pool house construction, or general building quite like us. As the most respected construction company in New Jersey, we have been lucky to work with the most talented, award-winning landscapers and structural architects in the business. Our combined talents, as well as the fact that Rodman's is a small, customer-oriented remodeling company, helps us maintain our exceptional reputation in the carpentry business – one home renovation project at a time.
As exceedingly knowledgeable NJ contractors, we take great pride in our work and our successes are consistently rewarded by our clients through repeat business. Strong leadership, innovative thinking and a client-focused approach are a winning combination that has served us well throughout our history, making us the construction company so many NJ homeowners rely on. Our success lies in our ability as a team to blend our diverse expertise to deliver the best possible outcomes for our clients. Let us do the same for you.
Contact us at Rodman Construction Group, home remodeling contractor, today at (732) 616-8881 to speak with us one on one about your needs and get a FREE estimate.