An outdoor kitchen remodel or outside kitchen can be an excellent way to add value to your home. But when it comes to kitchen renovation, you have many decisions to make. At Rodman Construction Group, our kitchen contractors know how important it is to focus on the details and find the right balance between functionality, looks and budget.
Why Consider a Kitchen Remodel?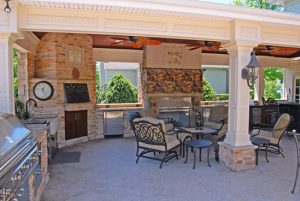 Kitchen renovation projects can help you sell your home in the future. Plus it's an investment you can enjoy and use. Whether you need a more functional kitchen, or an outdoor kitchen that's simple or elaborate, our kitchen contractors can meet your culinary needs.
For those nice summer days when it's difficult to leave the pool or patio, Rodman will create the perfect space for meals and entertainment. Our team of outside kitchen designers will work with you to understand how you plan to use the space, whether it's for small gatherings and family meals, or summer barbeques. From these conversations, we develop an outdoor kitchen design that can incorporate everything from an outdoor bar to must-have appliances. Your indoor kitchen remodel can come complete with custom backslashes and sleek countertops. And at Rodman, we build our kitchens with cultured stone or split fave natural stone constructed out of galvanized steel or concrete block.
See More Kitchen Remodel Photos, Click Here
If it's time to enhance your home's interior with a kitchen renovation, or your backyard with an outdoor kitchen or outside bar, contact Rodman's kitchen contractors today at (732) 616-8881.