The most discriminating wine collectors should have a custom built wine cellar in their homes. That's why Rodman Construction Group offers custom wine room building as part of our home renovation services. Partner with our designers and you'll have a custom wine cellar that's as unique as your taste in wine.
Wine Room Carpenters Close to You in NJ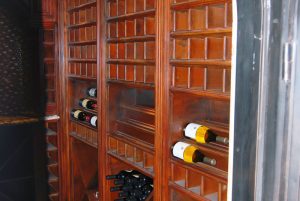 Rodman's custom built wine cellars combine the finest materials and craftsmanship with the most advanced technology available to create a superior home wine cellar experience. Working with our experienced building team, the possibilities for converting your space into the perfect wine cellar are virtually limitless.
Unlike our competitors, our home wine cellar building team is specially trained. We are educated with the proper custom built wine cellar building requirements and each one is built according to wine room building codes. From framing, insulation, vapor barriers, to dry walling and flooring, we often exceed the required industry standards to ensure every single cellar that we build is completed to satisfaction.
If you're looking for wine room carpenters close to you in NJ, look no further. Call the home renovation experts at Rodman Construction Group today at (732) 616-8881 for a FREE estimate.
Custom Wine Room Gallery