It's time to take your home to the next level when it comes to entertainment. Rodman's home renovation services include home theater design that offers the perfect combination of form and function.
Movie Rooms – From Design to Build
Our movie room solutions puts the entertainment at your fingertips with cutting-edge movie room technology for a complete entire home entertainment experience that fits your lifestyle.
Entertaining Basement Finishing NJ Relies On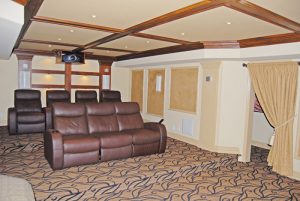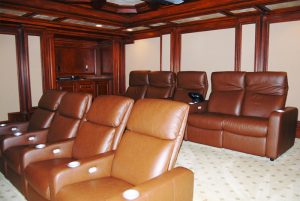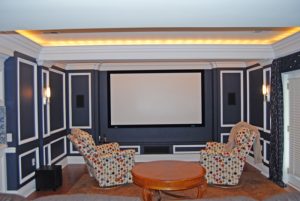 No home renovation is complete without addressing the entertainment. Our team of professionals ensures your movie room is completed safely and calibrated for your unique optimal audio and visual experience. During your home theater installation, we will also teach you to use your system to its fullest capability.
Home Theater Design
Whether it's multi-screen video with surround sound, or a home theater design that includes movie theater seating and customized lighting solutions, Rodman Construction's home renovation experts can make it happen. We'll make sure to minimize space usage with small flat-panel displays and furniture designs so that your needs are met no matter the size of your space.

SEE MORE HOME THEATER AND MOVIE ROOM PHOTOS IN OUR GALLERY, CLICK HERE
We offer the solutions for basement finishing NJ trusts because we have seen and done it all when it comes to movie room solutions. Let our home theater design expert can design and implement for you your vision today.
Call us today at (732) 616-8881 for more information and a FREE estimate.